Nooit meer een bericht missen? Abonneer nu op onze nieuwsbrief!
Project: Waterdicht maken van waterbassins met Liquid Rubber SprayGrade.
Beschrijving: Overal ter wereld kampen veel bestaande daken met vochtproblemen. Veel verouderde daken bevatten scheuren of de dakbedekking is los gekomen van de diverse dakdetails waardoor er lekkages ontstaan.
Het verwijderen van de bestaande dakbedekking en het plaatsen van een nieuwe dakbedekking is vaak een risicovolle en kostbare klus. Het overlagen van deze bestaande dakbedekking is een duurzame en een kosten efficiënte keuze.
Liquid Rubber hecht op vrijwel alle dakbedekkingen zoals Bitumen, EPDM, PVC, TPO, Staal, Asbest panelen en nog vele andere. Dit zorgt ervoor dat Liquid Rubber veelvuldig wordt toegepast als renovatiesysteem.
Allereerst wordt het dak grondig gereinigd zodat al het vuil en stof verwijderd zijn. Vervolgens wordt Liquid Rubber HBS200 gecombineerd met Geotextiel gebruikt om diverse scheuren, naden en dakdetails in te werken. Op deze manier zijn alle kritische punten voorzien van een juiste afdichting. Nadat de details zijn ingewerkt wordt Liquid Rubber SprayGrade over het gehele dakoppervlak gespoten in een laagdike van 2mm. Dit product kent een flexibiliteit van 900% en is volledig UV bestendig. SprayGrade vulkaniseert met Liquid Rubber HBS200 waardoor het uithard tot één membraan. Hierdoor kent het systeem geen zwakke naden of aansluitingen.
SprayGrade kent een uiterste effictieve applicatiesnelheid. Zo is het mogelijk om met een pomp 1000m2 per dag te verwerken. Hierdoor kunnen veel grote daken snel weer waterdicht worden opgeleverd.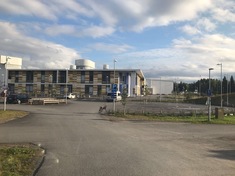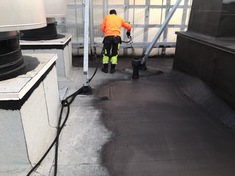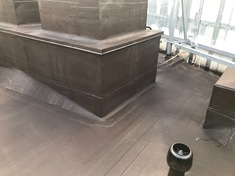 Volg ons op Twitter, Facebook en YouTube
Op onze social media account plaasten wij informatieve, interessante en amusante posts. Op YouTube hebben wij video's die informatief zijn en geven een goed beeld van de diversiteit van het assortiment van Liquid Rubber. Naast het volgen van onze ontwikkelingen kunt u hier ook uw eigen opmerkingen over Liquid Rubber delen met de rest van de wereld.
Klik op de onderstaande buttons en volg Liquid Rubber Europe!