Nooit meer een bericht missen? Abonneer nu op onze nieuwsbrief!
Project: Kelderafdichting met Liquid Rubber BelowGrade
Beschrijving: Zoals te zien is in het vorige project is het uiterst noodzakelijk dat de kelder zorgvuldig wordt afgedicht. Als de opdrachtgever wenst om de volledige kelder 100% waterdicht te hebben, dan adviseren wij om met Liquid Rubber de gehele kelder in te pakken. Uiteraard is dit qua kosten hoger dan het afdichten van alleen de naden, maar dan wordt er wel een volledige waterdichtings-garantie afgegeven op de gehele kelder.
Op veel plaatsen is de grondwaterstand dusdanig hoog dat de kelderwand onder een constante waterdruk staat. Mocht er in het beton van de kelderwand een kleine scheur ontstaan, dan is het afdichten van alleen de naden niet genoeg gezien het vocht dan via de scheur(en) haar inweg kan vinden. Wanneer Liquid Rubber de volledige kelderwand voorziet van een flexibel waterdicht membraan, is de waterdichting 100% gegarandeerd.
De kimnaad wordt allereerst ingewerkt met het 1-component product Liquid Rubber HBS200 gecombineerd met een geotextiel. Dit zorgt ervoor dat dit kritische detail op een solide manier is afgedicht. Vervolgens wordt Liquid Rubber BelowGrade direct op de kelderwand gespoten. Dit product wordt aangebracht in een laagdikte van 2mm en hard uit to een blijvend flexibel membraan van 900%. Deze flexibiliteit zorgt ervoor dat bewegingen of eventuele (haar)scheuren opgevangen kunnen worden.
Liquid Rubber BelowGrade sluit volledig naadloos aan op Liquid Rubber HBS200 waardoor de afdichting geen zwakke plekken of naden kent. Een hoogwaardige kwalitatieve afdichting die vele jaren mee zal gaan.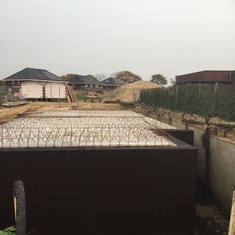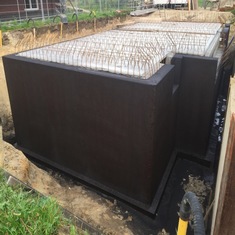 Volg ons op Twitter, Facebook en YouTube
Op onze social media account plaasten wij informatieve, interessante en amusante posts. Op YouTube hebben wij video's die informatief zijn en geven een goed beeld van de diversiteit van het assortiment van Liquid Rubber. Naast het volgen van onze ontwikkelingen kunt u hier ook uw eigen opmerkingen over Liquid Rubber delen met de rest van de wereld.
Klik op de onderstaande buttons en volg Liquid Rubber Europe!